[vc_row]
[vc_column width="2/3″]
[vc_column_text]
2019 President's Award
Woodfords is currently accepting nominations from employees for the 2019 President's Awards.
The awards are given each year to staff in three categories – direct care, supervisors and support staff – who exemplify Woodfords mission, vision and values.
Click here to review the mission, vision and values and think about coworkers who may be deserving of your nomination.
You may nominate one or more employees. Woodfords' Board President will review all nominations and select three award recipients.
All nominees will be recognized in an agency-wide email as well as at Woodfords' annual employee party on Friday, January 24, 2020 at Portland Ocean Gateway (more information coming soon!)
Deadline for nominations: December 19, 2019
[/vc_column_text]
[/vc_column]
[vc_column width="1/3″]
[vc_column_text]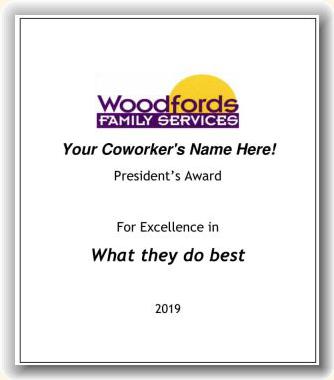 [/vc_column_text]
[/vc_column]
[/vc_row]
[vc_row]

2019 President's Award Nomination Form
[/vc_row]